CROSS SIZE: 37"(h)x26"(w)
609-841-0172
letteringplus@netzero.net KIT CONTENTS
INSTALLATION GUIDE
INFO


609-841-0172
ORDERING INFORMATION:
O
ur beautifully detailed carved cross memorials are made of
high quality, maintenance free white PVC plastic with loved one's
name and date of passing engraved into cross and comes as an
easy to install kit.
The kit includes cross, steel ground stake and hardware. Everything needed
for an easy installation using only a hammer and pliers.
A fitting and elegant tribute to a loved one's memory.
These maintenance free roadway cross memorials will not rot or rust,
never need repainting and have no vinyl letters to peel and flake off.
Our PVC

engraved

memorials make a lasting tribute to a lost loved one
and will endure the test of time and the harsh extremes of road conditions.
Cross memorials are available in two models, The Standard
and The Regent. Both crosses are the same size in overall
dimensions...35"(h)x 23"(w) with 2" average inscription height.
The Standard...........$139.00 (plus shipping)
The Regent...............$179.00 (plus shipping)
The Highlander........$179.00 (plus shipping)
The Memory Plaque..............$49.00
The memory plaque can be added to any of our memorial crosses,
made of PVC and features a photo of the deceased. 9" high by 6"
in width with decorative edges and of photo of your choice. (photo
to be supplied by customer)
The "Standard"
features engraved black lettering of name and dates, engraved
filigree at top and bottom, and installation kit.
The "Regent"
features engraved black lettering of name and dates, an arched area
at top and bottom for additional information, Bible verses, or slogans with an added
option

of applied vinyl roses (+$20.00)
The "Highlander"
Celtic inspired cross that is as strong as it is beautiful. Deeply carved
text and filigree this cross, made of high quality white PVC comes with everything needed for
a quick and easy on site installation.
All highway - road side cross memorials include engraved filigree designs,
engraved names and dates, beveled edges and installation kit.
Delivery time is usually within 2 weeks from order.

I too have suffered a loss of loved ones due to a highway accident, I have seen many road side crosses and memorials deteriorate due to
weather and the need to replace these memorials frequently. Being a sign shop owner for over 30 years and working with all the new materials
available for exterior signage I decided to create an easy to install, long lasting roadside, or roadway / highway memorial cross that would not need
replacing due to weather for many, many years. The names and dates are engraved into the PVC and painted with an oil base black paint, the ground steak
is made from 1/4" angle steel and the kit comes pre-drilled and ready for site installation...many of our customer have told us that this was the most elegant,
easy to order and install cross memorial they have used. Our delivery time is allocated at 2 weeks but in many cases we have delivered our highway
memorial cross in less time. Thank you for visiting our site and please accept my deepest sympathy at your loss. I hope that our highway memorial cross can
ease your burdens in some small way.......
Bill Stouch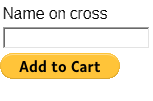 If you would like to order one of our Highway and Roadside memorials and would like to speak
with someone, please call

609-841-0172

and ask for Bill. or use the Buy Now button and fill in
the info...
We are a small "home based" company and we believe personal contact is still the best.
Thank You......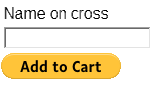 The Regent Memorial Cross offers an additional area above and below the
deceased name for Scriptures or sayings The Memorial Cross is 35" (h) x 23"(w)
and is made of high quality white PVC plastic. All lettering is engraved into the
PVC for durability and beauty The Regent comes with the standard
installation kit. .....
$179.00 (plus shipping)..............
Roses......+$20.00..... Memory Plaque...........+$49.00
PERSONALIZED ROAD & HIGHWAY MEMORIAL CROSSES MADE
OF MAINTENANCE FREE PVC PLASTIC
A division of Lettering Plus Sign Co.

EMAIL: letteringplus@netzero.net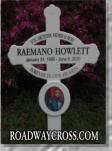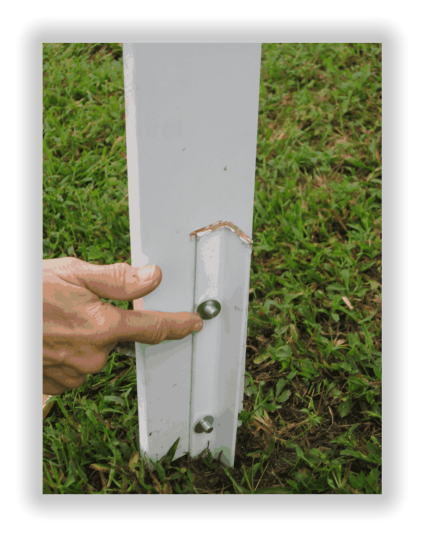 Please send all info such as names and dates in the e-mail and we'll provide a drawing for your approval
Please
do not send credit card info in the e-mail!
...when ready to order, PLEASE CALL 609-841-0172 or use the
ORDER NOW tab....thank you!
FREE
Layout and Design service

ROADWAY CROSS.COM
ROADSIDE MEMORIAL CROSS
If you have any problems with the INFO tab - please copy and past the address in your
e-mail address bar...thank you
letteringplus@netzero.net
ROAD SIDE & HIGHWAY CROSS MEMORIALS IN
ENGRAVED PVC
NO PAINTING, NO CLEAR COATING, NO MAINTENCE
MEMORIAL CROSS COMES READY TO INSTALL WITH EVERYTHING INCLUDED!
and DELIVERY WITHIN 1 WEEK*
The Memory Plaque

.................................................+$49.00
The memory plaque can be added to any of our memorial crosses made of PVC and features a full
color photo. 9" high by 6"in width with decorative edges and of photo of your choice. (photo to be supplied
by customer)
Please note that the plaque must be ordered in addition to a cross, we use pictures suppplied by customers and we sometimes
adjust color and crop to fit the plaque. Please send the best quality picture you have in a PDF, JPEG or GIF format.

Please call or e-mail for more information
"Simply the most durable, largest and most elegant
roadside memorial cross available on the net"
ORDER HERE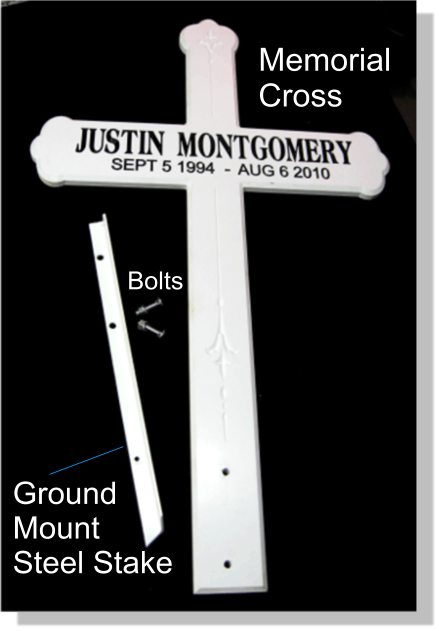 Butterfly
Shamrock
Dove
Vinyl cut art available for crosses in substitution of roses....$20.00

Flower


Prayer Hands

All of the artwork below is priced at $20.00..please specify art when ordering

Custom art available upon request...prices to be determined
PLEASE

INCLUDE PHONE NUMBER

IN
ADDRESS BAR
PLEASE NOTE: WE SHIP UPS AND CAN NOT SHIP TO
POST OFFICE BOXES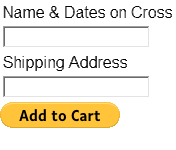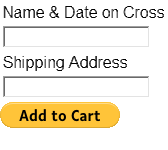 FOR THE STANDARD
and REGENT
Hello,
I am so happy with the way the cross I ordered turned out! Words can't describe how
happy this makes my heart. The young lady who it was made for was a close friend and
coworker. Due to some issues with her family Lisa does not have a final resting place so
this cross will make her "site" easier for us to pay our respects. Thank you
from the bottom of my heart for making such a beautiful cross to remember such a lovely
young lady!
Katie
Feb 17 2017
The Regent with Memory Plaque
Dedication and Donation Plaques.................$115.00
We now offer plaques for our crosses that feature
dedication or donation information
These plaques offer extra copy space that is not available for engraving on our crosses due to sizing
constraints. All lettering is engraved into the plaque as per the lettering on the cross
Approx 5 lines of copy avaialble, up to approx 80 charachters
Bill,
Just wanted to tell you the crosses were wonderful!!! I can't thank you enough for
getting them done so quickly and perfectly. We will deft be back in the future!!!
Adrian
April 12, 2017





For those looking for a simple, elegant and cost effective memorial cross, we recommend the Standard. Made of high quality
PVC with deep engraved letters. Name, dates and installation kit included. Options available Roses or custom art, and Memory
Plaque. See optional art and Memory Plaque info below.....size 35" height x 23 inches wide.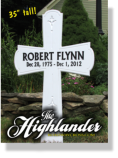 I received the cross today and i am very happy with it and the service will definitely recommend you
keep up the good work.
QLQ Haul & Landscaping
Mon, Apr 23, 2018 03:00 PM

Memorials to our furry friends
Roadside Memorial Crosses
ROADSIDE MEMORIAL CROSSES
road side crosses
"un duradero
Tributo a un
Lost amó a un "
Cruces conmemorativos laterales del camino
*IN MOST CASES
Thanks I got it! It looks really great! Perfect size and perfect everything! Thank
you so much!
Allan
Tue, Jul 10, 2018 09:02 AM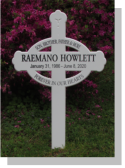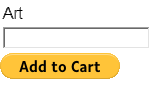 PLEASE SEND ALL TEXT FOR REGENT CROSS DRAWING
USING THE BUTTON BELOW
letteringplus@netzero.net
Received the cross today and it looks amazing. Thank you.
Thu, Dec 20, 2018 08:09 PM
Matt
Sat, May 11, 2019
I received the cross a couple of days ago, it is beautiful and more that what I
expected. Thank you for the time and care you put into making this cross!
SIOBHAN